One of the main goals of European Digital Treasures is to generate added value, visibility and economic profitability of European archives, through the identification and implementation of new business models and activities.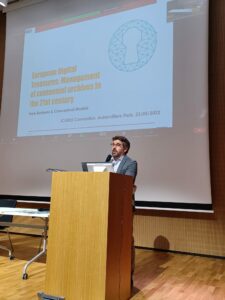 To pursue this aim, the project organises, among other activities, training workshops. One workshop was held in hybrid form on 23rd of May 2022, at the Conference Center of Campus-Condorcet in Paris-Aubervilliers (France) as part of the #28 ICARUS-Convention (23rd to 25th of May, 2022).
The workshop "New Business & Conceptual Models" was led by Yvan Corbat, senior consultant at Grupo DEX and partner of the EDT project!
Read the full report about the workshop here!
The sessions are available on the ICARUS YouTube channel soon – check it out!
The workshop included practical examples of new activities being implemented by some partners of this project:
After the presentations of the EDT partners, Ancestry and Teklia presented themselves and their ongoing projects, followed by a discussion about how companies and institutions could include the strategies and activities presented before, within their daily business.
See the programme & the short bios of all the speakers for the workshop here.
You can see the full programme of the convention and further details on the website: https://icarus-28.sciencesconf.org/resource/page/id/2