One of the primary objectives of the European Digital Treasures project is to address new audiences and introduce them to the world of archives. Engaging young people plays a vital role in it and will be achieved with various project activities. The focus lies on offering a low threshold and adventurous entry point into the world of archives, using narrative techniques ("story telling") that are based on the historical data of the archival documents.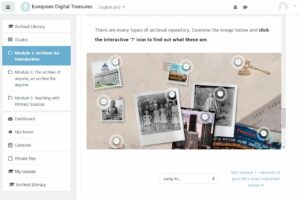 As one of the major parts regarding a young audience, the Archival Literacy Online Course has been developed to assist teachers in introducing students of grade 9 and higher to the world of archives.
This course offers a sustainable and attractive tool linked to young user education on how to use archives, teaching students how to conduct research within the archival holdings, through traditional lectures and presentations at schools and integrate the possibilities offered by archives, mostly in Humanities, specifically in areas like history, arts, and geography.
The Archival Literacy Online Course is available in English and Spanish.
The course has been organised around three key modules:
Module 1: Archives – an introduction
Module 2: The archive of anyone, an archive for anyone
Module 3: Teaching with primary sources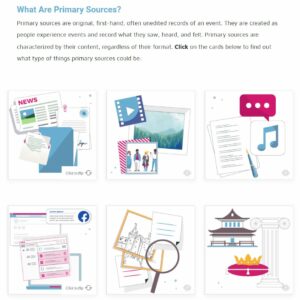 The Archival Literacy Online Course presents the relevant information in an attractive way tailored to the target group of young students. Step by step, the course content is presented, with a knowledge check where the students answer questions based on the section they have just read.
By the end of module 1, the students will understand what an archive is, they will be able to explore the qualities archives need to have, understand the evolution of the archives, and appreciate the importance of archival literacy as well as the value of archives to society.
Module 2 – The archive of anyone, an archive for everyone teaches the students how to identify the key records about different periods and activities in their life, shows them how to differentiate between legal and formal information and also tells them about their rights in relation to those records.
Module 3 – Teaching with primary source offers resources that teachers might find helpful in their teaching practice. The resources are organised in three thematic sections with a high level of relevance today, namely Pandemics and Epidemics, Economic Crises and Migration.
Introductory videos to these modules are available online:
On May 6, 2021, the Digital Treasures project partners will present the Archival Literacy Online Course in a webinar. Click here for details on the agenda and the registration form.