In November 2019, the School of Design (ESD) of the Polytechnic Institute of Cávado and Ave (IPCA) received an invitation from the General Directorate of Books, Archives and Libraries of Portugal (DGLAB) to collaborate on a project that would bring unprecedented challenges to a multidisciplinary team of designers and the opportunity to get to know and value documents that have described part of the History of Portugal.
ESD is an organic unit of the IPCA, a public institution of higher education founded in 1994, located in the northern region of Portugal. As part of its mission to contribute to the development of society through innovative training, cultural creation, applied research and investigation, the European Digital Treasures project presented itself as an opportunity to explore new methodologies and regional and international synergies.
The team responsible for the project included a graphic designer with a master's degree in illustration and animation, an industrial designer, responsible technician of a product design laboratory and a project manager, a teacher and researcher in the areas of communication design, typography and publishing. These different skills allowed solutions that not only responded to the initial brief but also complemented it with communication outputs (such as packaging and promotion videos) that helped to explain, demonstrate and advertise the merchandising products designed.
Here is the catalogue of all the products created under the project.
The first stage of this journey involved a week-long artistic residency in Madrid, from 17 to 21 January 2020. During that week, the teams of designers from all the project partners met, worked and shared experiences. There were moments of contact with professionals in the areas of design, communication, management and distribution of products related to museums and cultural institutions. Workshops were developed in which work methodologies, future scenarios and prototypes were discussed. The contact with designers from other countries allowed not only for better awareness of the brief, considering that the heritage and cultural value of many archives were reflected upon, but also for the exchange of experiences and expertise in varied areas. These included graphic design, product design, jewellery and marketing. There were also some field visits to cultural institutions of worldwide reference, which allowed an observation of the spaces and organisation of the merchandising shops and direct contact with some products. Furthermore, these were moments that enriched the experience of the week, due to the opportunity created to visit some of the best art collections in the world. After this important moment, which leveraged the steps of previous research and problem definition, we moved on to the ideation and prototyping phases.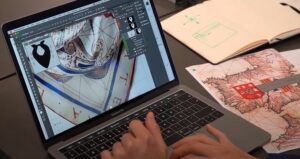 From a selection of historical archives, seven prototypes of innovative merchandising products were developed: a botanical specimen jar with five artisanal soaps; two écharpes; two ceramic brooches, a ceramic cutting and serving board and a DIY mobile. Take a look at the videos.
All prototypes were thoroughly studied, tested and presented in multiple contexts, national and international. With an iterative, multidisciplinary and multicultural process we sought not only to contribute to greater recognition of our past treasures but also to open the door to future projects that help communicate the value and mission of the Portuguese Archives.
Ana Catarina Silva, Polytechnic Institute of Cávado and Ave (IPCA).