After more than two years of work in the preparation of the three transmedia exhibitions included in the European Digital Treasures project, yesterday, 29th of June, the first one, The Construction of Europe – History, Memory and Myth of Europeanness over 1000 Years, was successfully opened at the Archive of the Crown of Aragon (Spain).
This exhibition is the outcome of the European cooperation, a clear example of the combination of the capacities, heritage, diversity, value, and inspiration of all those who have made this project possible.
The narratives displayed here combine different technological tools that allow us to get to know our written past through multiple channels. Visitors can interact with: 8 original documents from 4 different archives, 20 facsimiles from 7 countries, 22 digital reproductions of documents from 6 countries, displayed in interactive booths, 1 quiz game for people who love challenges, 1 memory matching game to encourage observation, 1 infinite running game to reward speed by catching archival documents, 1 interactive RPG game to learn how to work on an archive, 4 augmented reality experiences to explore parallel worlds and videos presenting the project and its merchandising products!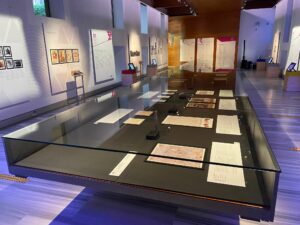 During yesterday's morning, there was a presentation for the media and, later, after the opening ceremony, a representative of the National Archives of Hungary, Zoltán Szatucsek, responsible for curating the exhibition, did a guided tour for the guests.
The opening was chaired by María Dolores Jiménez-Blanco, general director of Fine Arts of the Ministry of Culture and Sports of Spain; by Silvestre Lacerda, general director of the Book, Archives and Libraries of Portugal on behalf of the Portuguese presidency of the Council of the European Union; and by María Oliván, head of the Transparency, Document Management & Access to Documents Unit of the European Commission. It was also attended by the members of the 'European Digital Treasures' project from the National Archives of Norway, Hungary and Malta and a representation of the Spanish State Archives, led by Severiano Hernández, deputy director of the Spanish State Archives.
Additionally, the Archive of the Crown of Aragon also hosted a semi-virtual meeting of the European Archives Group (EAG). The first meeting of this group since 2019.
The exhibition can be visited until October 29th, 2021 in Spain, with capacity restrictions and hygiene and safety measures established by health authorities to prevent the spread of the COVID-19 pandemic. Practical information: http://www.culturaydeporte.gob.es/archivos-aca/destacados/expo-digital-treasures.html
Written by Spanish State Archives