The European Digital Treasures project aims at bringing increased visibility, outreach and use to European archival heritage, especially its digital versions.
Within this project, the National Archives of Malta and the Times of Malta, Malta's largest media house, joined forces to develop Malta Hidden Treasures. This is a series of articles and video productions (uploaded on the paper's online platform) inspired by records from the National Archives and from other archives.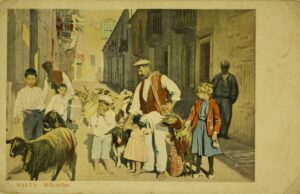 The aim is two-fold: to allow readers to gain an insight into Maltese history, society through our archives and to develop the popular awareness of the archives.
The first production was published on Sunday 14th of October and dealt with the dynamics of the impact of the British Empire and goats in Malta.  These include considerations of health, war, nutrition, politics, and economics.
You may have a look at this production here: https://timesofmalta.com/articles/view/maltas-hidden-treasures-when-the-british-empire-waged-war-on-the.914781!
Written by Leonard Callus
Head Office – National Archives of Malta.