This Document is one of the many exhibits of the roaming exhibitions of the Digital Treasures Project. It is part of the collection of the National Archive of the Czech Republic and is dealing about one of the important turning points at the beginning of the Thirty Years´ War. The document was published on 17th February 1621, but the battle at the White Mountain (Bílá hora, near Prague), was fought on the 8th of November 1620.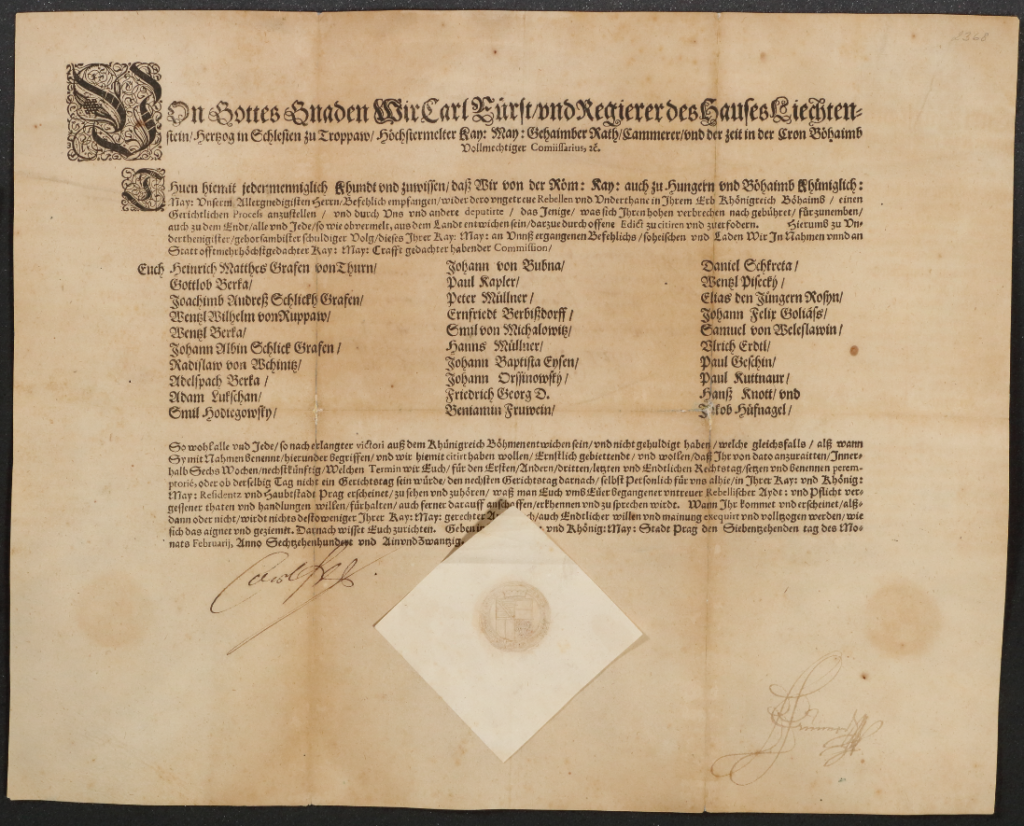 And here is the background of the document. It marks the culmination of a period of intense confrontation between the Protestant princes and nobles of the Holy Roman Empire and Central Europe on one hand headed by Frederick V, ruler of the Palatinate region in Germany, and the Catholic establishment of the Empire led by Emperor Ferdinand II. of Habsburg on the other hand.
In 1618 the Second Defenestration of Prague triggered the Thirty Years´ War. The two sides gathered armies, thus leading to the inevitable confrontation at White Mountain. Ferdinand's Catholic army decisively defeated Frederick's forces, and went on to capture Prague, thus effectively putting down the rebellion. Frederick and many of the Protestant leaders went into exile abroad.
The document was published in the name of Carl of Liechtenstein, one of Ferdinand II's top officials at that time. In the text, it is announced that the emperor has ordered the trial. A list follows, naming the most notable of the rebels. In effect, though, the summons is designed to apply to all Bohemians who had actively supported the Protestant cause.
27 of those who did come up for trial were executed in Prague in June 1621, and those who remained at large had their land and titles confiscated and transferred to nobles and gentlemen (all Catholics) who had been loyal to Ferdinand. Protestantism was forbidden, and in 1627 centralised authoritarian government was introduced.
For the people living on the lands of the Bohemian Crown, the consequences were devastating. The expelled people originated from all social classes. Places of exile had been the protestant German lands or the different parts of the Crown of St. Stephen´s in the kingdom of Hungary.
At a wider European level, the repercussions of the Bohemian Revolt were wide-ranging. The conflict effectively kicked off a series of interlocking wars which devastated much of Central Europe. Only with the treaty at Westphalia in 1648 did Europe enter a state of (sadly temporary) peace once again.