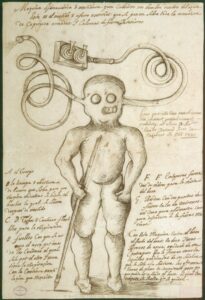 'Máquina Hydroándrica o vestidura para cubrirse un hombre dentro del agua', a 'Hydro Andric machine or garment to cover a man inside water' is one of the Spanish contributions to the third transmedia exhibition of the Project European Digital Treasures, "From the New World to New Technologies", held by the General Archive of the Indies (Seville, Spain) from April 29th 2022 to July 29th 2022.
Underwater exploration has a very long history. Freediving took place since early antiquity in the Mediterranean Sea and in many other regions and seas around the world. Pearl fishing was an economic activity developed by the Spaniards in America since the 16th century and an important source of income for the Royal Treasury. It was done by indigenous divers, and later by Africans.
The idea of using a contraption such as a diving bell to allow someone to remain underwater for extended periods has been with us for a long time. The limitations of these devices were well known: the methods used to provide air to the diver were very primitive and frequently led to fatalities.
In the 18th century, different models of diving suits with breathing systems were developed to achieve a greater permanence of the diver under water. One of those is shown here: a project for an underwater garment that was presented in 1720 in Spain. Actually, as the document explains, only the external layer is presented here, to be used over the whole body armour, with hood and iron breeches. Concept and fabrication are attributed to Alexander Durand.
This interesting document has inspired the Spanish designer Ángel Merlo to create an inventive merchandising product: a personalized waterproof cover for backpacks.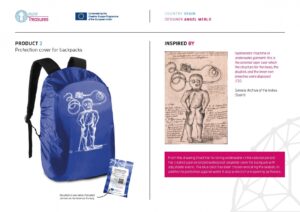 You can find more info about the record and the designer here:
'Máquina Hydroándrica o vestidura para cubrirse un hombre dentro del agua' (ES.41091.AGI//MP-INGENIOS,248) on PARES or Archives Portal Europe
Written by Spanish State Archives.