The transmedia exhibition The Construction of Europe: History, Memory and Myth of Europeanness over 1000 Years, included in the European Digital Treasures Project, was opened in Lisbon (Portuguese National Archive – Torre do Tombo) on the 17th of November!
This exhibition tells the history of Europe and of its construction as a concept that has changed over time, questioning the possibility of creating a common perspective from which European history can be understood as a history shared by all its inhabitants.

The exhibition aims to show a construction of Europeanness so that today anyone – regardless of birth, origin, nationality, religion – can identify with it, assuming it and also considering their own identities as part of it. It is based on documents grouped in 4 'pillars', examining the common history of Europe in the following aspects:
1- The Spirit of Europe.
2- The diversity of Europe.
3 – The Multiple Faces of Christianity.
4 – The Heritage of the Enlightenment.
The exhibition documents were selected and organized by technicians from the archives of the European countries participating in the project. A collective work of this type can give an idea of what Europeans, this time archivists and historians, think together about Europeanness. However, the selected documents not only testify to European history, but also, hopefully, provide the exhibition visitor or the catalog reader with an opportunity to create their own image of Europe and European history.
The narratives displayed here combine different technological tools that allow us to get to know our written past through multiple channels. Visitors can interact with original documents, digital reproductions, quiz and video games, augmented reality experiences to explore parallel worlds and videos presenting the project.
Among the treasures, are exhibited together, for the first time, from Torre do Tombo, the originals of the Apocalypse of Lorvão (1189. Registered in the UNESCO Memory of the World Register), the Jerome's Bible (1495), Fragments of Medieval Love Songs (1280-1320) and the Charter of Law of Abolition of the Death Penalty (1867. European Heritage Label).
In digital format, will be exhibited, among others, the Application to Print Don Quixote by Miguel de Cervantes (1604), the Photographs from Fridtjof Nansen's Polar expedition (1894), the Medieval Miniatures of the Manuscript Beatus of Tábara (10th century), the Privilege Charter of Břevnov Monastery (1224), a Royal Decree Regarding Witch Hunt (1617), a Masonic Certification (1766), from a Masonic Lodge, a Pro Finlandia Petition (1899), a Selection from Péter Szuhay's Roma Collection (1908-1970), a photograph related with the Voting Rights for Norwegian Women (1902).
All these documents are also included in the exhibition catalogue, which can be consulted here.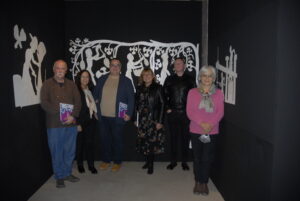 Written by DSIEQ/DGLAB.