European Digital Treasures project partner Hungary has opened its second exhibition titled 'Exiles, Migratory Flows and Solidarity" on May 5th, 2022 at the beautiful Castle Garden in Budapest. The exhibition explores the issues such as the cultural results of transnational migrations, on what ground solidarity stands when it comes to inclusion of the hopeless and how the host communities react after different migration flows. The exhibition looks at these issues from a historical perspective and presents a series of related events through 47 key documents.

Besides the digital panels the exhibition includes a few original documents that are originally kept by the National Archives of Hungary. These documents are exhibited carefully supervised by conservators continuously. Regarding the summer heatwaves in Hungary the Hungarian conservators team has to be beware of critically high humidity levels. These documents because of their uniqueness are central of interest of school groups, travellers and historians from all around Europe.
In this blogpost we would like to introduce one of the original pieces exhibited at the Castle Garden. This archival document is the 'Travelling booklet' (Wanderbuch) of Jakab Modern, tool smith journeyman. Jakab Modern was the Magistrate of the Royal Free City of Pozsony (today: Bratislava, Slovakia), a famous tool smith master throughout Europe.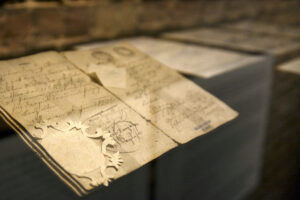 Undergirding the development of modern Europe between the 1780s and 1849 was an unprecedented economic transformation that embraced the first stages of the great Industrial Revolution and a still more general expansion of commercial activity.
From this 'Wanderbuch' we can walk down on history lane and learn that its owner, Jakab Modern has been wandering in German speaking regions for several years: Potsdam, Leipzig, Hamburg, Bremen, Hameln, Frankfurt, Mannheim, Ulm, München, Landshut, Regensburg, Linz were his destinations. According to this travelling document, after returning home, he also travelled through Switzerland and France. Among other cities he visited Zurich, Basel, Bern, Mühlhausen (a city in the north-west of Thuringia, Germany) and Paris. The booklet contains about 35 written folios.
Jakab after being employed by a master for several years, and producing a qualifying piece of work, the guild apprentice became a journeyman (German: Geselle, Hungarian: vándorlegény). He had his certifications from his master of the guild, which proved that he successfully completed his apprenticeship. It also meant that he is entitled to travel to other towns and countries, learning the art from other masters (these journeys lead sometimes to quite distant parts of Europe and became an unofficial way of communicating new methods and techniques). However, only a few journeymen made such long travels as the tool smith Jakab Modern did.
It would be wrong to think, however, that the Industrial Revolution eradicated artisanship entirely. The Wanderbuch (travelling booklet) of Jakab Modern is a testament to that. It records the journeys of a tool smith in Central Europe during the years 1823–1829. Just by browsing through it one can get a good impression of what Modern's working life was like.
The exhibition can be visited until the 5th of August, 2022 at the wonderful location of the Castle Garden of Budapest, Hungary.
Written by:
Dorottya Szabó, Archivist of the National Archives of Hungary
Anna Palcsó, Public Education Officer of the National Archives of Hungary
Photograph: Zsuzsanna Lantos, National Archives of Hungary