On July 1st, 2022, the opening of the 2nd part of the exhibition series of the EU project "European Digital Treasures" took place at the Museum am Dom in St. Pölten. After the questioning of the "Becoming of Europe" in the first part, the second part is now dedicated to the complex of questions "migration flows – exile – solidarity" – Europe in turmoil.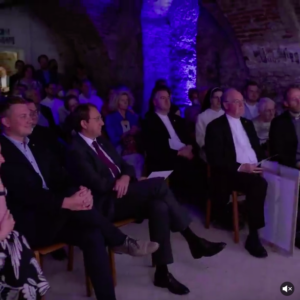 The air-raid shelter of the diocese was deliberately chosen as the venue for the event, in order to convey an authentic sense of what war, flight and persecution have always meant in concrete terms for the people concerned during the opening ceremony.
The interested audience of about 50 people was first introduced to the compilation by the museum director Barbara Taubinger in her welcoming speech, followed by ICARUS president Thomas Aigner, the representative of the province Florian Krumböck and the mayor of St. Pölten Matthias Stadler, who formulated their thoughts on the frighteningly topical subject. Finally, the exhibition was ceremoniously opened by Diocesan Bishop Alois Schwarz.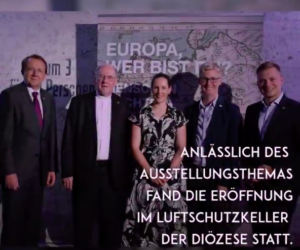 The show will be on display for two months until the 28th of August and uses primary sources from nine major European archives to convey the various aspects of the topic. In addition to labour- and war-related migration, a third section is devoted to expulsion as a result of uprisings and state intolerance.
Written by Karl Heinz, International Centre for Archival Research.