At around 1048 the Fatimid Caliph Al-Mustansir Billah gave permission to some merchants from the Republic of Amalfi to build a hospital in Jerusalem. The community, which was led by Blessed Gerard, ran the hospital and became independent during the First Crusade in around 1099. This was the origin of the Knights Hospitaller.
This Bull, issued by Pope Paschal II on 15th January 1113, is considered to be the founding charter of the hospital. It transformed what was a community of pious men into an institution within the church. By virtue of this document, the Pope officially recognized the existence of the new organisation as an integral and operative part of the Roman Catholic Church.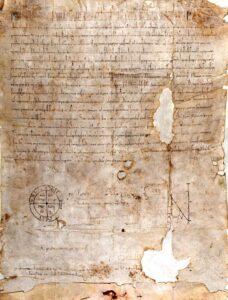 In it, the Pope formally recognized the foundation of the hospital, which became a lay-religious order under the sole patronage of the church. The Bull gave the right to elect its Grand Masters without interference from external authorities.
The Bull includes a list of the Order's hospitals and hospices in France and Italy, indicating that it was not limited to the Latin Kingdom of Jerusalem and that it already had a European dimension.
This document, from the National Library of Malta, forms part of The Construction of Europe, one of the three transmedia exhibitions developed by the European Digital Treasures project.
Leonard Callus, Head Office National Archives of Malta