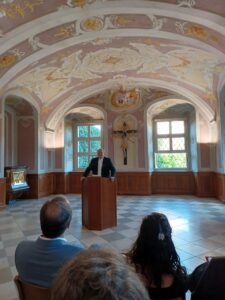 On September 2nd, 2022, the opening of the third part of the exhibition series of the EU project European Digital Treasures took place at the Museum am Dom in St. Pölten, Austria. After the questioning of the "becoming of Europe" in the first part and the thematic complex of migration, exile and solidarity in the second part, the third part is now dedicated to the broad field of "European discoveries and inventions".
The ceremonial opening, which this time took place in the very well-filled summer refectory, was first introduced by the museum director Barbara Taubinger with her welcoming speech, followed by the head of the school district Benedikt Michal and the member of the state parliament Martin Michalitsch, who formulated his thoughts on the topic on behalf of the head of the state government. As a crowning finale, the exhibition was ceremoniously opened by Diocesan Bishop Alois Schwarz and the guests had the opportunity to view the exhibition in the museum premises.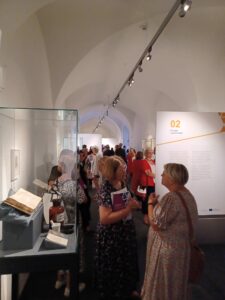 Anabela Ribeiro and Olinda Cardoso, Portuguese partners of the Digital Treasures project were present at the opening and demonstrated the international friendships created within the project! Thanks for being there!
The show will be on display for two months until the end of October and uses primary sources from eight major European archives to convey the various aspects of the topic. The very broad field has been divided into the content areas of "Medicine", "Energy and Industry" and "Transportation and Navigation" which can also be explored within the framework of guided tours.
All the details about the exhibition in St. Pölten can be found here: https://www.museumamdom.at/aktuelles!
Find information about the backround of the exhibition here and additional material, like catalogues & games, created especially for the exhibitions here.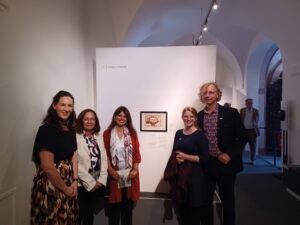 Written by Karl Heinz, International Centre for Archival Research.