SAVE THE DATE
After two years of online conventions and zoom conferences, we are happy to announce that the upcoming ICARUS Convention #28 will be held in person in Paris from 23rd to 25th of May, 2022 as a hybrid event!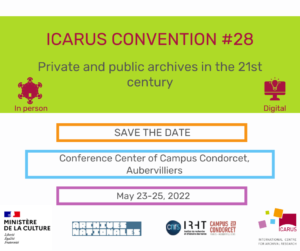 The conference will take place in the conference center of Campus Condorcet in Paris-Aubervilliers and is organised by the Institut de Recherche et d'Histoire des Textes (CNRS) with the support of the French Ministry of Culture and the National Archives (Archives nationales).
Within the programme of the convention, the European Digital Treasures project will hold their workshop "New Business & Conceptual models" led by Yvan Corbat!
One of the key objectives of the Digital Treasures project is to generate a greater added value, profitability, visibility and economic return of European archives, through the identification and implementation of new business models and activities.
The workshop will include practical examples of new activities being implemented by some partners of this project:
The programme of the convention will be finalized within the next days and weeks.
First prospect, further information, details and registration: https://icarus-28.sciencesconf.org/resource/page/id/2
Any questions? Please contact: info@icar-us.eu
More information to come soon – stay tuned!
We are looking forward to seeing you in Paris!
Written by ICARUS & the Digital Treasures team.