Continuing with our series of presentations of the merchandise products, we want to show you the bottle of water inspired by the document "Plan of a machine to raise fresh water from the river to the Alcazar of Toledo and supply the city" 1561 – Simancas General Archive (Spain) that will be part of the exhibition "European Discoveries: From the New World to New Technologies" in the framework of the European Digital Treasures project.
Commissioned by the Spanish State Archives, the designer Ángel Merlo was in charge of creating this product.
Historical background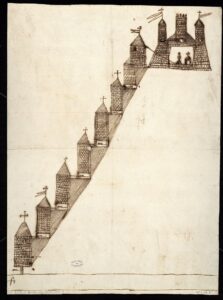 Giovanni Turriano, born in Italy in 1500, was a mathematician, astronomer, inventor, watchmaker and engineer. He began his career as a watchmaker in Milan. Later he began working at the service of Emperor Carlos V. And then he began working as a civil engineer paid by the monarchy. In 1565 he was hired to build an engine to supply the Alcázar of Toledo with fresh water from the nearby Tajo river. He succeeded in building it in three years, and it was done so well that he was hired to build another one. The machine was at the time the highest water elevator in the world, providing Toledo with 17 cubic meters of water a day raised from 100 m below.
Inspiration
The Spanish designer Ángel Merlo took the drawing on this record as an inspiration to create a product for domestic or sport use. The bottle is made of glass and stainless steel with circular screen printing in black around it, protected with a softshell sleeve personalised with the Digital Treasures logo. The description and data of the product are printed on the label.
In the designer's own words: "The document prompted me to create a product related to the transportation of water, but more modern and simple. I chose to make a bottle because I wanted it to be a practical item to use on a daily basis and thus give more visibility to the European Digital Treasures "brand". Besides, it had to be a viable product, not very expensive to produce. Then I looked for the appropriate glass of water and the way to personalise it. I rejected the idea of putting a label of paper because of the lack of durability and I made a circular serigraphy by treating and vectorising the original image."
Spanish State Archives
You can find more info about the record and the designer here:
Diseño de un ingenio para subir agua del rio Tajo al Alcazar de Toledo y proveer a la ciudad (ES-47161-AGS2 – ES-47161-AGS-UD-13790) on www.archivesportaleurope.net