The European Digital Treasures partners created a workshop held within the #28 ICARUS Convention on Monday, 23rd of May, 2022! The workshop and the convention took place at the Conference Center of Campus-Condorcet in Paris-Aubervilliers (France) and participants could join remotely or in-person.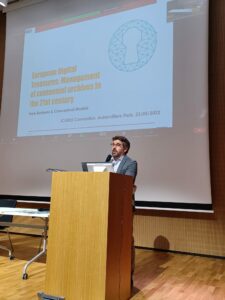 One of the main goals of European Digital Treasures is to generate added value, visibility and economic profitability of European archives, through the identification and implementation of new business models and activities. The creation of this workshop was one step among others to pursue this aim!
Yvan Corbat, senior consultant at Grupo DEX and partner of the EDT project, led and moderated the workshop and gave a general overview of the aims of the project before the individual presentations of the partners.

Although more than 20 actions focused on the development of new business models are being implemented (an average of 4 per archival partner), the workshop presents  5 practical examples of these  new activities:
Miguel Ángel Bermejo Alonso (Subdirección General de los Archivos Estatales – Ministerio de Cultura y Deporte) presented the topic Self-copying service in the researching rooms of the Spanish State Archives followed by José Furtado (Direção-Geral do Livro, dos Arquivos e das Bibliotecas – DGLAB) talking about an E-commerce platform.
Leonard Callus' (National Archives of Malta) topic was Identification of potential for revenue generation followed by Ole Gausdal (National Archives of Norway) talking about Improve access to digitized archives using artificial intelligence.
The workshop presentations of the European Digital Treasures partners were closed by Dorottya Szabó (National Archives of Hungary) who talked about Crowdsourcing activities carried out by the National Archives of Hungary.
Here you can see the workshop programme:
After those presentations the companies Ancestry and Teklia presented themselves and their ongoing projects, followed by Q&A session about how companies and institutions could include the strategies and activities within their daily business.
Read the full report about the workshop here!
The sessions will be available on the ICARUS YouTube channel soon – stay tuned!
See the programme & the short bios of all the speakers for the workshop here.
Written by Tatjana Hölzl, ICARUS